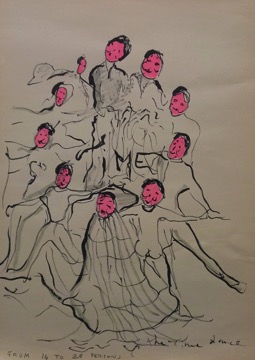 The dance is inspired to an engraving in an ancient venetian book of the XVI century that represents the Time. One of the best known engravings from Hypnerotomachia Poliphili, is certainly that of the enigmatic bi-faced group of dancers tht's in the incipit of the first book.
Every man is connected with a woman but untied to her and each dancer has two faces; a cryng face and a smiling face. Dancing in two oscillating semi-circles, not in a round. On the right side there were some presences of dancing young men and young ladies, each one with two faces. The front one smiling, the back one crying. And in round they were dancing. Holding by arms, man with man and woman with woman. A man's arm under a woman's one, and the other arm over the woman's one. And so holding they move in that way, one by one. That always one happy face was opposed to the sad face of the previous.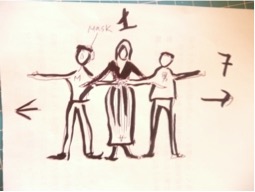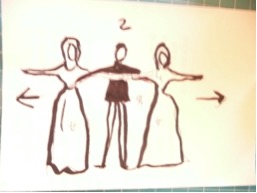 So a succession of men and women, moving in two opposite semi-circles, forming quite an ellipse, more properly an eye.
Each of them is bi-faced and turning the wrong face to the following dancer. So they are always opposite to each other.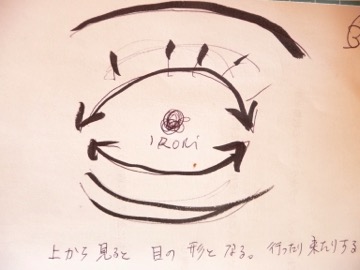 After few minuts the two semicircle get separed ad stand for few minuts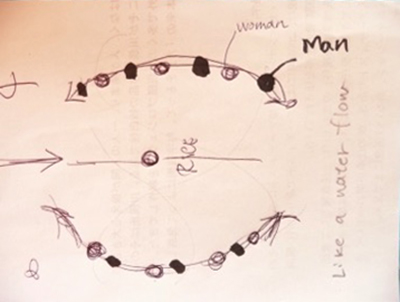 I come at the center and they start to wandering in a casual way.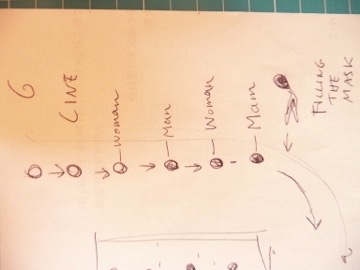 They form a chain and take off the masks.
I'll pourig rice in their masks and one a one the dancers throw the rice in the air.
Then they put the masks on the ground and leave the stage I'll stay on the stage picking up rice for all the time that needs,